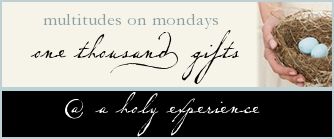 With the changing of the year comes the changing of goals, attitudes, and habits. What a blessing that we get a "fresh start". It's funny how the simple turning of a page on a calendar can spur us on to so many things. In thinking about fresh starts it also stands to reason that we think about the many blessings we already possess.... and in the past week of "vacation" there has been much time to reflect upon gratitude.
481. a peaceful few days, enjoying some colder weather sitting by the fireplace - admiring the stockings that were lovingly knit by my sister
482. pralines - made by my neighbor who is always making us treats!
483. friends, who listen and support you - even when you're griping about something trivial
484. music - even though it's the same song being played on the electronic keyboard - OVER AND OVER AGAIN!
485. several dinners, cooked by my husband and not me!
486. freshly shampooed carpets (again - done my husband, and not me!)
487. the lingering of the Christmas spirit - as we wait for Epiphany
488. a quiet morning alone, packing away all of the precious ornaments from our tree; each one holds beautiful memories
489. fun times playing "Guess Who?" with my son - what a great game!
490. lots of time spent reading out loud to my children, and them HAPPILY turning off the television when I say "let's read!"
491. my iPad - a great research tool
492. free book downloads
493. special relationships my daughter has with a few adults - what a blessing they are to her
494. a big decision made for our church today
495. time today to get ready for our study of The Ancients.... exciting for me!
496. my husband offering to take us out to dinner tonight -- again.... exciting for me!
497. text messaging - I keep in touch with so many people this way
498. flavored creamer in my coffee
499. reading through the book of John together with my children
500. a new year and a new start!