How many different shapes of animal cracker are in a box?
How many feet are in a mile?
How many different colors of Fruit Loops are there?
These are just some of the questions you might encounter in Wits & Wagers Family, a game that is both educational and just plain old fun!

In our latest TOS crew review, we have been enjoying ourselves with this game. We have been playing it as a family, and my children have invited their friends to play with them, too. One Sunday a couple of weeks ago the afternoon was spent playing this game with neighborhood children at my house. Just yesterday the neighbor boy rang our doorbell and asked if we could play that "fun trivia game" again this weekend. I think that's a pretty good endorsement. If you're looking for a game that might make a good family Christmas gift, this would definitely be something to consider.
About the game:
The game is designed for those 8 and up (although my six year old played and LOVED it!)... 3-10 players. The makers of the game, NorthStar games, says it takes 2 minutes to teach the game and 20 minutes to play. This is accurate in our estimation. The directions were simple and we all learned in a matter of minutes. I love games that we can all play together with a short time spent on directions!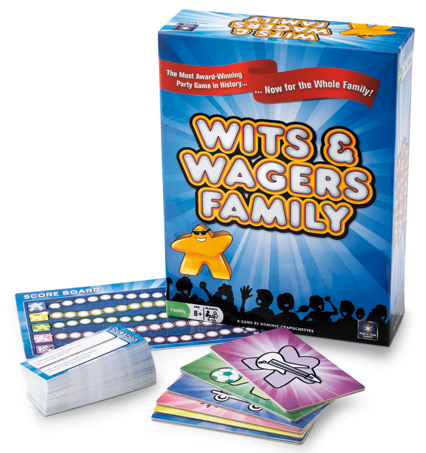 Inside the box you will find a deck of cards with questions... literally hundreds of questions from random trivia questions to important educational questions. You will also find 6 dry erase boards and markers, a scoreboard, along with 2 Meeples to go with each dry erase board.
It's quite easy:
A fun question is asked and everyone writes down a guess

Place your Meeples (cute little wooden pieces in the shape of people) on the guess you think is the closest.

In the process, everyone learns lots of fun answers and laughs at some of the guesses.

The winner is the person who reaches the end of the scoreboard first.
One of our questions was "How many feet are in a mile?" Of course, my husband, daughter and I knew this answer. My son (the 6 year old), however, thought there were 68 feet in a mile! We got a chuckle out of this, and now he knows there are 5,280 feet in a mile.
What impressed us:
From the minute you open the box, you can tell the game is of good quality. The boards are sturdy and storage is easy. The directions come in a nice, large fold out insert and are easy to follow as well. (The only thing we would have added was a small eraser for the dry erase boards!)

The questions were varied between being just plain silly and very educational. This kept us laughing, thinking, and very interested in the game. We definitely consider this game "school"!
*There is an advertised iPhone app for this game, but upon searching the App store we found no such game, nor is it advertised on NorthStar's website. That was disappointing, because I think we would have used such an app.
You can find out more about the game by visiting NorthStar Game's website, or by connecting with them on Facebook or Twitter. The game can be purchased on Amazon, for just over $15. I think that's an excellent price for the quality of game you will receive! I searched on the website and you can also find the game at Target and Barnes & Noble.
Want to know even more? You can visit the TOS Crew blog to read what my fellow crew mates have to say.
*Disclaimer: I received the above named product from TOS Crew in return for my honest review. I have not been compensated in any other form.