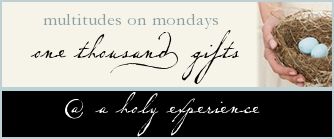 A Monday could not pass if I did not record what I am thankful for.... we are on a hiatus from normal life for several days, which in itself is a huge blessing. Here are ten more items of thankfulness in my life:
601. warm weather and sunshine - 80 degrees!
602. a loving grandma for my children, who has the patience to do things with them that, truthfully, at this time of year I'm just a little to worn out to attempt!
603. four glorious nights alone in a hotel with my husband, while the children stay with grandma and grandpa
604. a big breakfast I didn't have to make
605. a beautiful new home for my parents - in a safe and vibrant retirement community - my mom and dad are children of the Great Depression, and I wonder if they ever thought they would see something like this?
606. Hershey's Peanut Butter Kiss cookies
607. portable DVD players
608. so much quiet you can hear the clock ticking
609. cute flip-flops
610. my sweet husband, and his gift of driving the whole 10 hours we traveled yesterday!
What are you thankful for? Do you stop on a regular basis to ask yourself that question? Visit Ann at
A Holy Experience
to read others' lists and become inspired yourself.