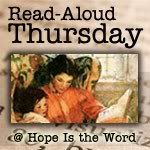 I'm happy to join in Read-Aloud Thursday @
Hope Is the Word
. Each Friday all of the Read-Aloud Thursdays posts are compiled, and then you can see what everyone else is reading. So, be sure to check Amy's site on Friday for some wonderful ideas.
We try to read aloud AT LEAST two hours each day in our home - many days it is more. I consider reading aloud to be me reading to the children, the children listening to books on CD, or dad reading to us after dinner - increasingly, my nine year old daughter will read out loud to her six year old brother. That does my heart such good.
How do I choose read-alouds? Read-Alouds consist of books recommended in The Story of The World Activity Guide, library books my children have chosen, as well as books recommended in The New Read-Aloud Handbook by Jim Trelease. I also love to pull booklists from Sonlight, Five in a Row, and Ambleside Online. Per Charlotte Mason, we try not read "twaddle", and I'm finding my children are gravitating towards quality literature for children.
Our read-alouds this week:
Dad reads this story each night while we all listen. It is a beautiful family story for Lent. Last night granddaddy was visiting with us and listened as well.
This book coincides with the chapters about Greece in The Story of The World, Volume 1. The myths are the perfect length for my six year old son - but still keep the interest of my older daughter. We highly recommend this book!
This is a read-aloud with my daughter. We have been reading it for several weeks. It is a complex plot, but OH SO GOOD! It coincides with the Egyptian section in The Story of the World, Volume 1. We should be finishing this book soon.
I couldn't find an image for this book. My son picked it out at the library, and it's been a wonderful book for him - definitely a great book for boys!
This book coincides with the chapter about Persia in The Story of the World, Volume 1. It is fairly short, but the illustrations are stunning and as we read I could see lightbulbs going off in my children's heads - since we had just read this history chapter the day before.
What have you been reading to your children this week?