One of the subjects I knew we needed to cover in science this year for my youngest was magnets. I was delighted when we received Primarily Magnets (published by AIMS Education Foundation) to review for The Old Schoolhouse. Upon first glance I was wondering how exactly we would use this activity book, since it appeared to be geared for classroom teachers, but after thoroughly going through the book and then trying some of the activities, I concluded this book would be of value to homeschoolers.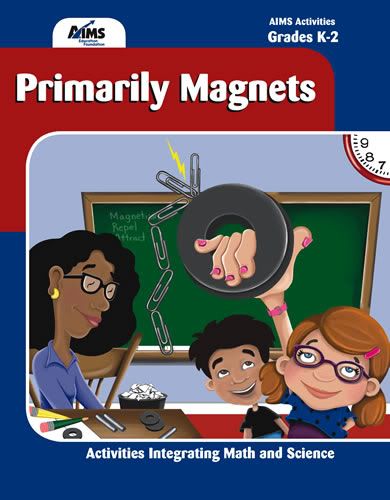 AIMS Education Foundation specializes in hands on math and science activities. They have MANY activity books at many age levels - a full list is found on their website. Here you will also find they offer manipulatives, lab kits, and all sorts of good things!
Primarily Magnets is available as a .pdf download ($18.95), or you can order the print version for the same price AND it comes with a CD that contains all of the activity sheets. This particular book is for grades K-2. That seemed just about right to me. My first grader loved it, and my fifth grader knew most of what we had covered, but had fun with it anyway.
Four main areas are covered in Primarily Magnets:
1. Magnets Interacting With Other Materials
2. Magnets Interacting With Other Magnets
3. Magnetic Fields
4. Everyday Use of Magnets
The book begins with some basic information about magnets, which was very helpful to us as we began our study. It gave Historical Background, Magnetic Poles, Magnetic Domains, Magnetic Fields, and Magnetism as Interaction.
Each lesson in the activity book has a topic and key question. For example, we did a great lesson called "Hungry Hounds". The topic was magnetism and the key question was "How can you make an object move using a magnet?" There were also all kinds of other school speak stuff that I (quite honestly) skipped over because it reminded me of my days as a public school teacher. As homeschoolers we aren't too concerned with recommendations found in national education reform documents, are we??
In Hungry Hounds the children were asked to move their hounds down a winding path. The hounds had paperclips taped to them and the children had a ruler with a ring magnet attached. To pull the hound down the path they needed the paperclip on the hound (which ATTRACTED the magnet), but to push the hound down the path they needed the opposite pole of the ring magnet (which REPELLED the magnet). I liked how so much science vocabulary was used throughout the lesson. As you can see -- my kids had a great time with this. They even went so far as to name their hounds. Their favorite (which sent them into fits of laughter) was

Fuzz Brain!
Getting on to the lesson, we needed ring magnets (which do not come with the activity book, but AIMS has them available for purchase). Thankfully my sister-in-law is a science teacher so we had access to the magnets, but you would have to get a few additional materials to use this book effectively. I went through the lesson set-up and procedures and did the activity with my children. THEY LOVED IT! The extension questions at the end of the lesson were also good for me to ask my children... got them thinking a little more deeply.
At the end of the book there is a fun review, and also an assessment. If you would like to see a detailed preview of the book, click here. If you would like some free science and math activities for K-2 from AIMS, click here.
Our Honest Opinion:
Primarily Magnets was a lot of fun to review, but I'm not sure I would spend $18.95 on just one small topic in science unless I was sure my child/children were VERY INTERESTED in that subject.
The illustrations and games/activities were very kid-friendly. The activities are all definitely HANDS-ON and this is what appealed to my children.
Each activity/lesson requires preparation on the part of the teacher. You need to have the correct magnets, activity sheets, etc... Be prepared to spend a little time.
This activity book is not written with homeschoolers in mind. Yes, you can adapt the lesson to make them fit the homeschoolers, but it is generally written for classroom teachers. If you are teaching a homeschool co-op science class, this might be the PERFECT resource.
My children learned a lot about magnets and we will continue to use the activities in this book over the coming weeks. I am thankful to have had the opportunity to use such a well thought out activity book for young children.
**Visit the crew blog to see what my fellow crew mates thought about this same product!

Disclaimer: I received the above named product from TOS Crew in return for my honest review. I have not been compensated in any other form.