Last Monday I gave you a peek inside our home... specifically the entryway and dining room. This week I'll show you a little more of the downstairs. Once again, here is the front entry. This time, instead of turning right we'll go left and into the living room.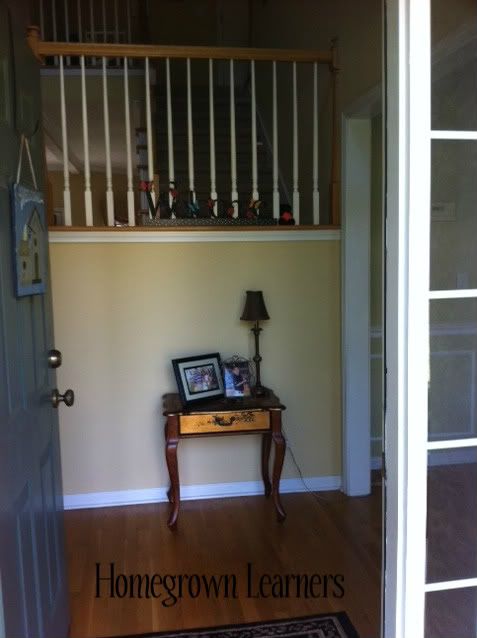 If you were taking piano lessons from me, you would immediately see some French doors that lead into our music room, but I'm going to save that room for next week. We'll keep walking by the music room and into the family room. I like this room because it's cozy... the large windows at the back of the room look out on our deck and backyard. This is a great birdwatching area for us because we have a feeder set up on the deck. You can't see our television (around to the left), but that's ok because we just cancelled all forms of pay TV and the television is no longer a main source of entertainment for our family.
This is the family room looking in from the kitchen... the kitchen and family room are one large area. I loved this about our house when we first saw it, but it also means the mess from one room easily trails into another! I love my rooster in front of the fireplace. I collect roosters, and this one was found for me at an estate sale.
On the mantle are my favorite things in this room... two poetry collections given to me by my mother, and also the wood carving of Mary, Joseph and Jesus. This came from a trip overseas taken by my husband's parents took a number of years ago. I keep this out year round to remind us of the spirit of Christmas.
If you stood at the sofa and looked into the kitchen, this is what you would see. Although we have a school room upstairs, a lot of our things have crept downstairs, and I've found keeping the big US map on our kitchen island allows for the most retention!
The bane of my existence are the white linoleum floors in the kitchen. Yuk. Oh, how I would love wood floors, but we're keeping these floors a while longer because there is nothing wrong with them, and investing that amount of money in our home really wouldn't pay off right now. Keeping the floors clean is almost a full time job. I am lucky, however, to have a spacious kitchen that is sunny and where I can cook and still be with my family.
To the right is a door that leads to our basement -- and while it's nice to have a basement, ours is used only for storage and a place where my husband brews beer! Again, I'd love to have a finished basement, but it goes back to the value of our home and what we are willing to put into this place right now. With a foreclosure on one side of us and a short sale just down the street, the home values have really been hurt in our area. I'm just thankful we have a nice home and try not to think about its value too much! The older I'm getting the more I am realizing that it is the people and love inside a house that makes it a HOME, not expensive furnishings or the latest flooring!
Next week I will show you the rest of our downstairs. I think it's fun to do this little series of posts because it gets me to spruce up the house a bit!
What about you? What do you think makes a house a HOME?? I'd love to know!