The latest review for The Old Schoolhouse Review Crew is ALEKS: Assessment and Learning in Knowledge Spaces.
I had always heard a lot about ALEKS... through reviews and other things out there in the blog-land. I never, however, quite understood what it was about. According to ALEKS:
A

ssessment and

LE

arning in

K

nowledge

S

paces is a Web-based, artificially intelligent assessment and learning system. ALEKS uses adaptive questioning to quickly and accurately determine exactly what a student knows and doesn't know in a course. ALEKS then instructs the student on the topics she is most ready to learn. As a student works through a course, ALEKS periodically reassesses the student to ensure that topics learned are also retained. ALEKS courses are very complete in their topic coverage and ALEKS avoids multiple-choice questions. A student who shows a high level of mastery of an ALEKS course will be successful in the actual course she is taking.
To put it in much more simple terms - ALEKS assesses your child's knowledge and adjusts the instruct accordingly. In this way it is supposed to target your child's exact needs.
ALEKS offers many different instructional options, but for this review we just looked at the homeschool portion. If you want to learn more about ALEKS, click here.
The basics of the homeschool program:
ALEKS (Assessment and LEarning in Knowledge Spaces) can provide you with the instruction and support you need to homeschool your children in mathematics for grades 3-12. ALEKS is accessible from virtually any computer with Internet access, making it a flexible and mobile educational solution for your children.

ALEKS is a Research-Based Online Math Program:

Complete Curriculum Solution for Math with Access to Full Course Library
No Textbook Required
Artificial Intelligence Targets Gaps in Student Knowledge
Assessment and Individualized Learning for Grades 3-12
Master Account - Monitor and Direct Learning Progress
Unlimited Online Access - PC & Mac Compatible
An additional feature is the QuickTables, which is basically a math facts drill for grades 3 and up.
As you can see, once a student completes an assessment, it gives them a pie -- clearly outlining what they already know and what needs work. In this way, the instruction is incredibly focused and accurate.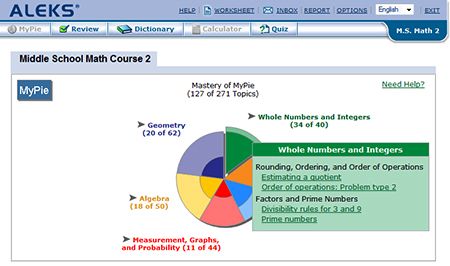 Here is an example of what a typical screen would look like... everything must be read by the student. I think my little guy might have liked some of it read to him, even though he is a fluent reader. I didn't see anywhere that there was an option to have the lesson read to you.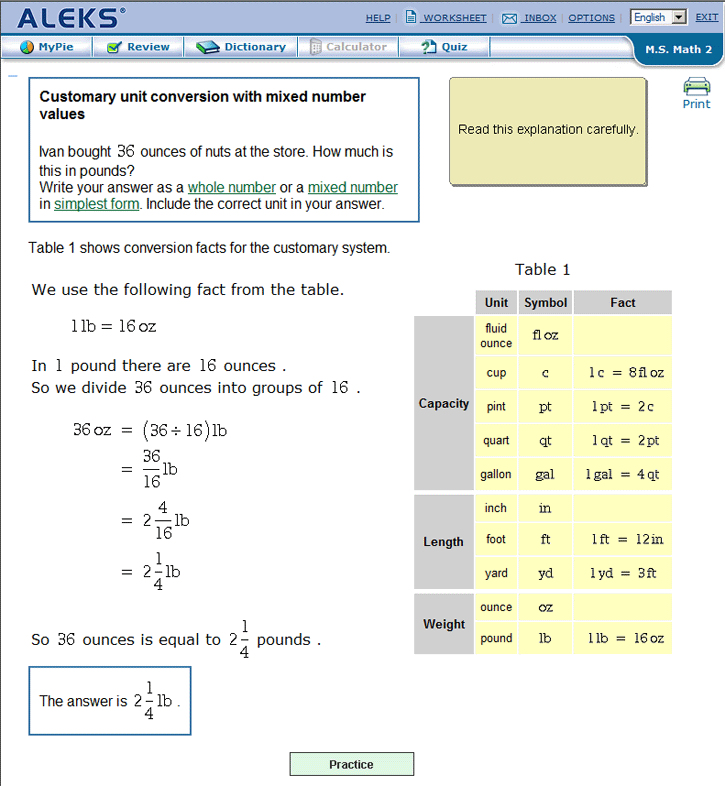 As a parent you will be able to see EXACTLY what your child has completed. Here is a view from QuickTables:
Pricing:
* $19.95 per student/month OR
*$99.95/6 months or
*$179.95/12 months
You can sign up for a free 2 MONTH trial here.
Our opinion:
From the get-go (which was an initial assessment for each child), the interface was difficult for them. It is very "academic" - and by that I mean no bells and whistles for kids.
I found myself needing to sit with them and instruct along with the computer, which in some ways defeats the purpose of computer instruction.
I can see where this would be good for older children, but for my elementary aged students it just didn't cut it.
The focused instruction and intelligent design of each lesson is appealing... everything is very well done... just not for my little ones at this point.
If you are looking for serious math instruction with no "extras" this might be for you. There are many features that make it appealing for parents - accurate record keeping being the biggest plus.
You can see what other crew members are saying here.
* I received this product via The TOS Review Crew in exchange for my honest opinion. No other compensation was received.