Collage Friday is a bit different this week. We have been on Spring Break for the week and are traveling to south Florida to visit my parents. We will then go on a surprise excursion afterwards... I can't tell you where we're going, but the initials are D.W. and it is in Orlando, FL!
As I was thinking about the Collage Friday post, I decided it would be fun to do a collage of past spring break visits to Florida. It's a tradition in our house to drive the 11 hours south to visit Grandma and Grandpa.
We leave our house around 5 a.m. and drive ALL DAY. We stop at Krispy Kreme doughnuts for breakfast. The kids love watching movies in the car (which we NEVER do!) and are very excited to see what awaits them once they get to Grandma and Grandpa's house.
I enjoy returning "home", too. I was born and raised in the same (not so small) town my parents still live in - and each time we go back I get to see people from my childhood. There are so many good memories, and I have my mom and dad to thank for that. I grew up in a town where I could literally ride my bike across town and had a lot of freedom... it's not like that anymore, but the memory of that place is pretty neat.
Last year my mom and dad moved into a continuing care community. They are both in good health, but wanted to be in a place where they would have care if the need arises. I'm happy that they love where they live and have an active and busy lifestyle. I'm grateful to them for this decision... which alleviates a lot of worry for my sisters, brother, and I. I do wish they lived closer to us, but know they love where they are and probably wouldn't be as happy anywhere else.
The older I get them more I see just how much my parents sacrificed and planned to make sure I had everything I needed... both of them were born during the Depression and they have seen a lot of change in their lifetimes. I witnessed through them the value of hard work, perseverance, and the ability to make a better life for yourself.
(I'm not so sure our country is quite like that anymore, which makes me sad.)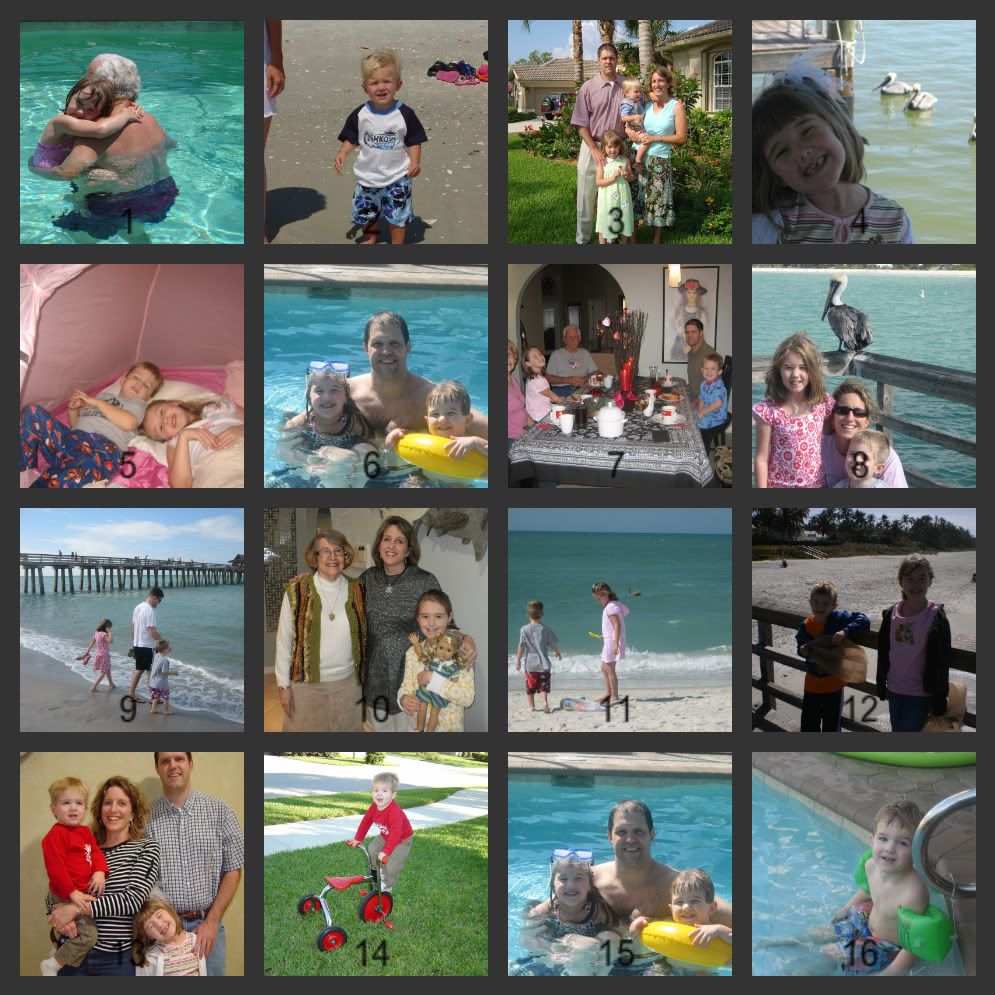 1. Miss B and Grandpa Jim - special times in the pool
2. GMan - age 2 - on the beach
3. Family picture -- mom was skinnier and dad had hair!
4. Miss B lost one of her first teeth in Florida - isn't she cute?
5. Enjoying a sleepover in a tent in Grandma and Grandpa's living room
6. Dad and the kids - pool time!
7. A special Valentine's dinner - my mom loves to decorate and throw parties!
8. That's big pelican in the back -- see him?
9. A bit of a chilly day - just warm enough to dip their toes in the water
12. This year it was cold and windy, but we walked the pier and collected shells.
13. Another family picture... many years ago!
14. GMan was a silly daredevil from the time he was very young!
15. All smiles! (and yes, I know I used this picture, twice. See, I was very tired from packing, etc....!)
16. Love that little boy!
I'd love for you to join me for Collage Friday. Please remember the guidelines:
1. Please use photo collages in your post.... that's the whole reason for Collage Friday!
2. Link back to my Collage Friday post or display the button somewhere on your site.
3. Please visit the person who linked ahead of you - leave them a comment and say hello.