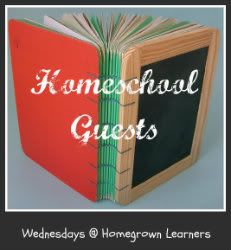 It's Wednesday, which means it is time to hear from another of the Homeschool Guests. I've enjoyed sharing my friends with you the past few weeks, and look forward to many more!
Have you missed any of the guests?
Week 1: Hope ~ Nature Study in Your Homeschool
Week 2: Monica ~ Homeschool as a Calling
Week 3: Stacey ~ Empowering Children to Narrate Through Play
Today's post comes from my dear blogging friend, Jess:
A while back I had the desire to bring a group of children together with the purpose of creating both art and writing in an environment that would stimulate, nurture and inspire. I believe that within each of us dwells the heart of an artist. The level of skill and the depth of talent are not what define an artist.
An artist is one whose soul is connected with their limbs.
Our family is very busy with numerous activities, classes, and trips. Often I had great plans of breaking out oil pastels, or watercolors, only to find that priority was given to math or writing, or science. I began to question why it is so easy to push art aside as something we will get to another day. In my artist's heart, I felt that art is equally important as math, science, and language arts. If I scheduled time and a place to create and honored it among our expansive list of other activities, then we would never have to push it aside again.
With the click of a send button, I sent my idea to my core group of friends. They quickly responded and our group was created. That was ten months ago. What was originally designed as a 4-class session continued and grew into a bi-monthly activity, two coop classes, and now a summer session with two separate classes! When I reflect back on what made this successful several things come to mind:
Allow each child to express his or her creativity.
I often think back to the art teacher at my daughter's public school who told my children that they would get a good grade if their art looked like hers. I never want the children to feel like my work is what their page should look like. I begin each class with a general idea of what the page will be about and a list of writing invitations to accompany the project.
Use technology to your advantage.
Many people tell me they wish they could do art journaling with their children but they are not creative. Pinterest provides many of the inspirations for my journal pages. I search under art journal and I scroll through page after beautiful page of other artists' work. If I find one that lends itself to the blending of words with the art I repin it to my page.
Use quality art supplies.
Art supplies can be expensive. Search for coupons to art stores and use these to stock up on quality markers, oil pastels, tempera paints, sponges, artist tape, glue and paint brushes. Search tag sales. Advise your children how to use these materials properly and care for them respectfully. Make these accessible to your children at will. Often my girls will be inspired to journal at odd hours. I do not want to prep for them at nine o'clock at night, but I do not mind if they do it themselves.
Build your group with care.
Choose children who work well together. Decide what type of atmosphere you wish to create and then invite children who will be creative in that environment. I always offer tea and play classical music. I want a soothing, peaceful environment. I build my groups around ages, writing ability, level of involvement I must have in the group, friendships, dynamics and a general interest in writing and art. When your group is cohesive, the creativity flows.
Often I work alongside the children. There are times when I may have a finished page to show them, if I needed to test out a new art supply, or try a new method to see how it would translate to a group. However, most of the time, I am working on my page at the same time. I keep notes and jot down beautiful language I overhear, or possible topics for writing.
In my last coop class I had planned to use straws to blow paint onto a page exposing writing that was done in white crayon. It did not work as planned. There was too much page to cover and the method was not sufficient to distribute paint to show the resist. I modified this to sponging the paint. Some children did not press hard enough with the crayon and their words did not show through. We talked about a time in their life when they tried something and the result was not what they planned. Each child immediately thought of something they did, whether it was trying a trick on a bicycle or learning a new skill in gymnastics class. Spontaneously I gave the children a black marker and asked them to fill one page with a drawing of this memory. The other page was used to write about the memory. This page was one of my favorite times working as an art journaling group.