Trying something new for this week's wrap-up... a photo collage with some helpful links. So, check out each photo number below and maybe there's something you can use in your homeschool, too!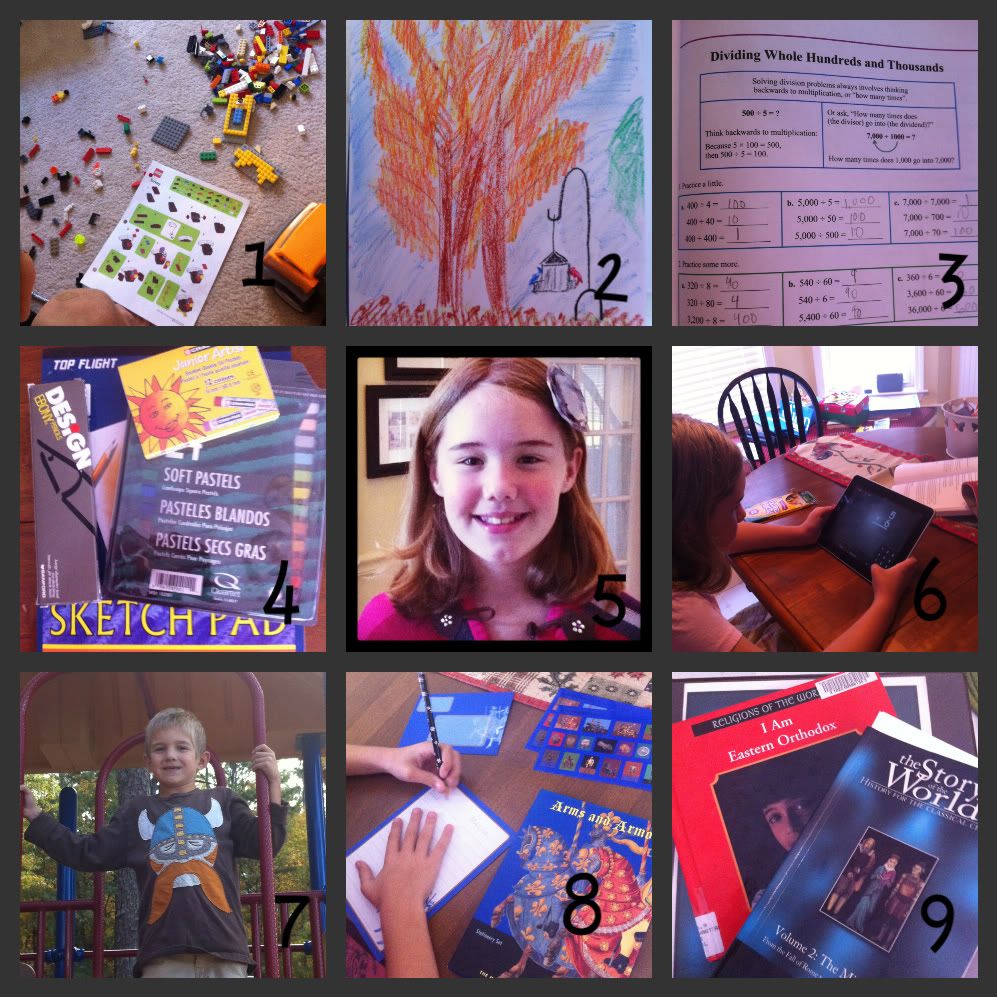 1. GMan was working on making a Lego Turkey this week. I thought it would be as simple as me saying -- "Here's the sheet - check off the parts as you find them and put them all into this little bag." Ummmm, not so much. This was asking a lot of him - he needed some help from me to get him going, but it was a GREAT exercise in organization, patience, and persistence. AND, I discovered that he really just likes building things from scratch!
2. My lovely landscape that I created after a nature walk with the kids.

This is the group of trees in our front yard with the bird feeder, too. I am NOT an artist, but the kids wanted me to do this activity with them. We are reviewing this curriculum, and are enjoying it very much! Our walk came after a difficult morning, and it was a chance for us to talk about what we could change, and what we were thankful to God for in that particular day.
3. We are plugging away with division

- taking a bit of a break from our current math curriculum and giving Math Mammoth a try... another review coming up next week! This has been a BLESSING for Miss B - math is making more sense to her now. Woo Hoo!
4. More beautiful art supplies... our pastels, ebony pencils and a new sketch pad. It's amazing how using the finest materials can inspire us.
5. My beautiful daughter

- whom I spent an afternoon with shopping. All of a sudden she is fashion conscious, and since she needed new clothes we set our budget and hit some sales and used some Kohl's Cash! Notice the cute flower in her hair - my teaching partner at co-op makes these!
6. More math - lots of drills in multiplication and division for both children using our iPad app - Math Drills. We love this - you can completely customize facts drilled for several students and it grades them in miles per hour! Our other app we used a lot this week was Geomaster, for location of all 50 states.
7. My almost seven year old enjoying one of our gorgeous fall days here in Georgia.

We spent an afternoon at a local lake and park learning all about naturalist and founder of the Natural Park System, John Muir -- check it out at my Read-Aloud Thursday/California Edition post. By the way, did you know that THIS WEEKEND IS FREE ENTRANCE TO NATIONAL PARKS??
8. Lots of letter writing occurred this week.

The children wrote thank you notes to all of their co-op teachers. It was the last week of co-op for the semester, so I had some very depressed children on my hands! Anyway, they used this great Arms and Armor Stationary Set I had brought home from the Metropolitan Museum of Art Store. The stationary is BEAUTIFUL; it is lined and includes nice stickers, too. I think beautiful paper inspires me to write - and my kids spent a long time sprawled out at the dining room table writing their notes. Letter writing accomplishes practice in: spelling, grammar, handwriting, creativity, and thankfulness!
9. We finished Chapter 4 in Story of The World Volume 2.

This chapter was about the Emperor Justinian and the Eastern Orthodox Christians. It was very interesting to all of us. We LOVE Story of the World!
What was the highlight of your week? Is there one particular thing you can share with me that worked well for you this week?
*Linking with Kris for the Weekly Wrap-Up.