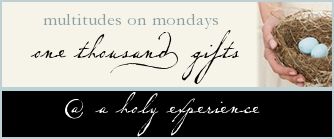 Each Monday I blog about gratitude. Over the past week I realized (on so many occasions) how thankful I am for homeschool bloggers! A great blog post (in my opinion) gives me something I can USE... whether it be a quick idea, link, nugget of wisdom, etc.... Here are ten bloggers I am thankful for ~ and I'm counting them as my blessings this week.
Blogging takes TIME, and time is a precious commodity to the homeschooling mom. I have noticed, however, that homeschooling moms are among the most helpful, genuine, and caring women you will ever meet. I hope you get a chance to visit these bloggers and tell them you appreciate them, too!
The Notebooking Fairy is a great resource for notebooking in your homeschool. We use many of the free printables Jimmie offers.