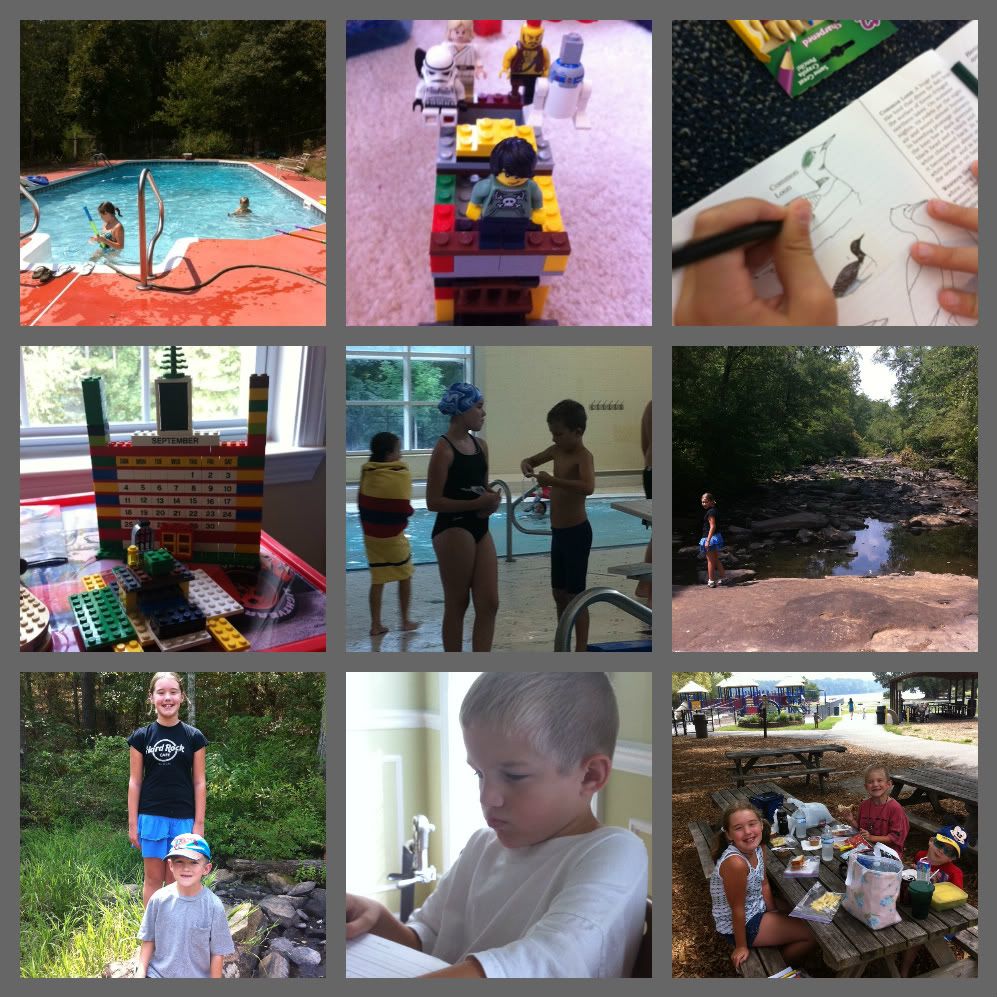 Scripture Memory: Psalm 1
Composition of the Week: The Stars and Stripes Forever, by John Philip Sousa
Song of The Week: America (My Country 'Tis of Thee)
Where did the whole week go? It seems like it was just Monday, so I'm glad I write these weekly wrap-ups to keep track of everything.

(I apologize in advance for a long post - I've said before these wrap-ups are a way for me to keep track of what we accomplish - I print them and put them in our homeschool binder!)

We managed to get a couple of good outdoor outings this week; one day it was lunch and playtime at a local park, and another day it was a nature walk to Line Creek. We were hoping to see birds (to go along with our science study), but it was just too hot and the middle of the day. Next time we need to go early morning! We rounded the week out with all afternoon swimming on Friday... some much needed relaxation for all of us!
Most of all, I am starting to see that this time with my children is going FAST. Next year I will have a daughter that is middle school age, so I want this year to be full of FUN and wonder with learning. This week I got my priorities a little out of balance, and I feel badly about that. My other blog, Three Thinking Mothers, underwent a little makeover earlier in the week and I needed to spend significant time overseeing all of that. I felt that maybe my children thought that blogging was important than them on a few occasions, and that can't happen again.
I was happy to go to a moms' get-together for our co-op on Monday evening; co-op begins next week and we are all so excited! I also spent a lot of time practicing piano this week, because I will be filling in for our normal pianist on Sept. 11 - that means playing the whole service and accompanying the choir. Yikes. I can play it all, but I just need practice!
A Collage of Our Week:
Math:
Miss B took test 7 in the Horizons 4 book this week. She still feels like she is "behind" since she is technically a fifth grader, but I constantly reminder that we started with this accelerated math program in the middle of her third grade year -- so she will be done with the Horizons 4 in December. She doesn't LOVE math, but her skills are solid and she doesn't mind math at all. I think math wasn't engaging or fun during her K-3 years in public school, and we are still undoing a lot of that. GMan, on the other hand, ADORES math. He is nearly done with Horizons 2 and is my mental math whiz. He willingly sits down and does 2-3 lessons each day. Children can be so different from each other.
Science:
We bought a simple field guide and bird coloring book to go along with our Flying Creatures of the Fifth Day book. We learned about the parts of a bird and what field markings are. The children really enjoyed making their own "bird maps" to add to their science notebooks. I can't speak highly enough about Apologia science!
History:
We read two chapters in Volume 1 of Story of The World this week. Our last chapter was talking about the Terra Cotta warriors and the first emperor of China. The kids were fascinated by this, so I'm sure we will spend more time on it next week. I also reserved A LOT of library books about Julius Caesar and the Romans for the upcoming chapters in SOTW. It's been a couple of weeks since we did a "hands on" history lesson, so I need to plan something.
Latin:
We made our way through Lesson 2 of Prima Latina. I love it when the kids make connections, and I can see learning Latin as HUGE connection maker for my children.... understanding language in this way will be a valuable skill for them. They also thought it was pretty cool that they are learning the Sanctus (which is a part of our Lutheran liturgy each Sunday). We spent some time listening to a Sanctus by Mozart and another Gregorian chant. I was channeling my music history professors from 20 years ago, that's for sure!
Writing, Spelling, Grammar:
Writing With Ease is providing a lot of structure and direction for us this year. My daughter loves it, but if you look up at the photo collage you will see my son's unhappy face as he is writing a narration. He is reluctant to narrate, but when I press him he comes up with really good narrations! I see how good his big sister is at narrating difficult passages, and I know I need to stick with pushing my son to do his best.
Spelling Workout continues to be another very good choice for us... Miss B took a spelling test on her fifth list this week, and GMan continues to work through the lessons in Workout A. I love teaching them the "rules" (if English even has any spelling rules that make sense!) and it making sense to them.
First Language Lessons was fun this week, with more work on linking verbs. The story of The Camel's Nose was also a fun one for G, even if he had to "narrate" it. I caught him drawing pictures of the story later in the day, so I know he liked it. I'm stumped on Grammar for Miss B -- she really enjoyed Easy Grammar 4, but Easy Grammar 5 is just too much. We have stopped it for now, and she is listening in on First Language Lessons until I come up with another plan. Suggestions??
50 State Study:
We started learning about Ohio this week and did some reading about the Buckeye Tree and Ohio's history. Notebooking was done for this state by Miss B. I also read the children Lynn Cheney's two books about our nation. These books are wonderful and I recommend them if you are studying our country.
Reading:
Our read-aloud this week was Caddie Woodlawn. We are ADORING this story! We also finished listening to Roberto and Me: A Baseball Card Adventure on CD. The kids each read a couple of books on their own. GMan is very interested in all things Star Wars and Legos right now, so he has some Star Wars readers he is enjoying. Miss B reads a lot of different things on her Kindle, and this week spent most of her time in her American Girl magazine!
Fine Arts:
Last weekend we spent our Saturday morning learning about Georgia O'Keeffe and creating our own O'Keeffe inspired flowers.
Miss B continues her piano lessons, and I require she practice at least 20 minutes each day. It usually turns into more because she also plays her recorder (she's learning some Harry Potter music that is pretty hard!) She is progressing nicely, and it does my heart good to see her loving her piano so much.
Our piece of the week was

The Stars and Stripes Forever

by John Philip Sousa. Each morning the children were march around the kitchen, family, and dining room to the steady beat and I taught them about the different sections in Sousa marches. I love that I can use some things from previous life as a music teacher with my own children!
As part of our state study we are also learning a patriotic song each week, and this week it was America. I played on the piano and they sang along. I look forward to starting each day this way.
PE/Sports:
GMan began Fall baseball last weekend, and Miss B began swim team this week. She was reluctant to join the swim team, but I know her very well: she will not willingly volunteer for something, but if I gently nudge her, she generally winds up liking whatever it is! She swims 1 1/2 hours each practice, 2 times each week. She has been worn out, but the exercise is wonderful, and I love that she will be part of a team. I was hesitant to have my children in sports where we would be slaves to a schedule, but I think the benefits outweigh the drawbacks, and for now it works for us.
That's our week in MORE than a nutshell. I'm happily linking with Kris for the Weekly Wrap-Up! How was your homeschool week?