Finally, a chance to review Time 4 Learning! I've been seeing T4L for a couple of years and always wondered what it was about. Now I know, and I'd like to share our experience with you! You can also read other TOS crew members' reviews by clicking here.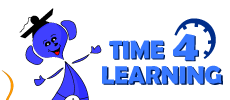 Time 4 Learning is an online curriculum that is designed for children Pre-K through eighth grade. It encompasses math, science, social studies, and language arts. You can read exactly what is covered on the curriculum overview page. There is also a comprehensive "scope and sequence" page, along with lesson plans already completed for you!
There is also a "playground" area where the children can play games. (Admittedly, we didn't use many of these... I find my kids get sucked into the games if they know they are there, so I didn't advertise that option until much later!)
It is designed for homeschool, after school, or summer school use. As a homeschool family, you could use Time 4 Learning as your full curriculum, or as a supplement to your current curriculum. Read what Time 4 Learning has to say about using their curriculum in your homeschool.
A monthly subscription to T4L is $19.95/month for the first child, and $14.95/month for additional children. This price includes all subjects. You can also try a demo of Time 4 Learning.
Time 4 Learning runs on PC and Mac. At this time, it utilizes Flash technology, so it is not compatible with the iPad.
Getting Started:
Set up of Time 4 Learning was extremely easy. We received an email from Time 4 Learning and I gave each child a user name and password. Shortly after we were sent an email for each child with their login information. Login was easy for my children. I simply made them a bookmark in our browser and when it was time for their computer work, they were set. EASY.
We did not have any technical issues or questions during our use, but if we did, Time 4 Learning is available for support via email and telephone. Any questions that you might have are probably answered on the FAQ page.
We used Time 4 Learning with a first and fifth grader. They tested out ALL areas of the curriculum. I found that there was something in EVERY area they could use! While we would not use this as our primary curriculum, I did feel it was a good investment as a supplement. If you have a computer driven child, it would be particularly beneficial. My oldest summed it up perfectly: "I like how they make everything into a game!"
The graphics were high quality, and it always kept both of my children's interest. Here's an example from a second grade math lesson:
First Grade:
Everything in the first grade curriculum was read to the child... many times there was the option for the child to either be read to or read on their own. This is a good option to have in place. Attention span and interest level was taken into account, and it was an excellent fit for my six year old. Quizzes were
given after each concept, and concepts were appropriately sequenced.
Phonics: We liked the cute lessons with varied activities to keep my son's interest. The characters and voices/songs were engaging and funny. Our favorite here was the Crab Crawl, which was a game using high frequency words. Very fun!
Vocabulary: My son enjoyed these lessons, but here I did have a bit of a problem with the curriculum. I felt it was a lot of test prep work, and as homeschoolers we don't do a lot of tests! The stories were textbook type, which didn't appeal to us.
Language Arts Extensions:

My son enjoyed the options he had to be read to, read aloud, or read alone. He read a story about hurricanes and a story about a volcano, which really interested him.
Math: This section was our favorite! The lessons were quick and fun. I also liked the fact that there were printable resources to go along with the lessons. For example, a measurement lesson had a printable activity sheet to supplement what my son learned on the computer. We did lessons about measurement and fractions, and I'm sure we'll continue to do more!
Social Studies: We are studying the 50 states this year and Time 4 Learning was a great addition to our curriculum. Patriotic songs, the Pledge of Allegiance, and many other lessons about our country were included. Very nice.
Science:

A complete lesson about magnets kept my son highly engaged and within twenty minutes he had learned quite a bit.
Fifth Grade:
What a change from first grade! Everything is read by the child, and is presented in a much more mature fashion. My ten year old, however, still thought the program was fun and never complained about doing schoolwork!
Language Arts:
My daughter worked through a large section about punctuation, commas, and quotation marks. She was given a quiz after each section, which provided immediate feedback.
Math: The math was challenging for my daughter, which was good. I did find that there wasn't a lot of TIME given for explanation, which some kids need for math. The speaking was done more quickly than I would have liked. She did, however, appreciate how math concepts were likened to real life (a game of Battleship, for example, in the line and point relationships lesson). I could see this being a comprehensive math curriculum, which intrigued me.
Social Studies:
A lesson on Ancient Greece was completed as I watched. The map activities were thorough and interesting. It was a perfect supplement to our study of The Ancients. There were many social studies lessons to choose from.
Taking notes for a science lesson
Science:
Note taking was encouraged in a lesson about classification of living things! This skill is so valuable, and my daughter felt very "official" during this section. She also remembered the most from this section.
At any time I was able to log into my parent account and see a progress report for my children. Not that I don't trust them, but it was nice to "check up" on them to keep track of their learning! This could also serve as your main record keeping if it is your full curriculum, and it is ALL DONE FOR YOU. To me, this is Time 4 Learnings biggest advantage! Your record keeping and planning are complete and thorough, and for many moms this would be a huge burden lifted from them.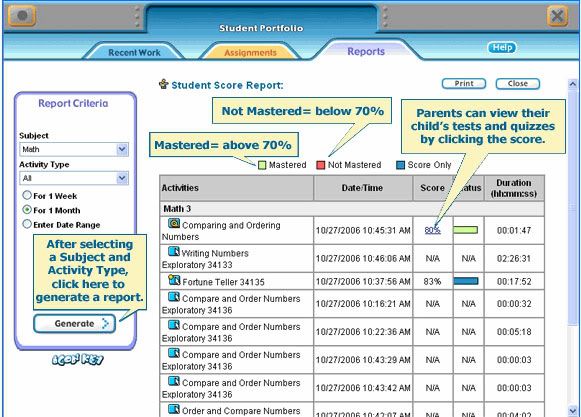 In closing, we very much appreciated the chance to review Time 4 Learning and will probably keep using it AS A SUPPLEMENT in the future. It opened our eyes to the world of online learning, which is fun and engaging for my children!
Disclaimer: I received the above named product from TOS Crew in return for my honest review. I have not been compensated in any other form.