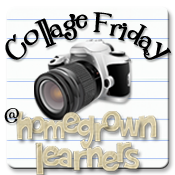 Despite out schedule being off pretty much the ENTIRE week, we did accomplish a little bit of "school". This week is not one I will fondly remember at all, but I will remember it as a week that changed us forever... and, despite the difficulties there were always the blessings that shone through.
Last night we took the time to attend a church basketball game. Our church is small. We are a close church family. Walking into the gym and being greeted warmly and just laughing for the entire game and cheering for the youth was FUN. They encourage everyone to wear a crazy hat... even my husband pulled out the Cat in The Hat for the occasion.
While the game was 30 minutes away and the weather was yucky, it was SO WORTH IT.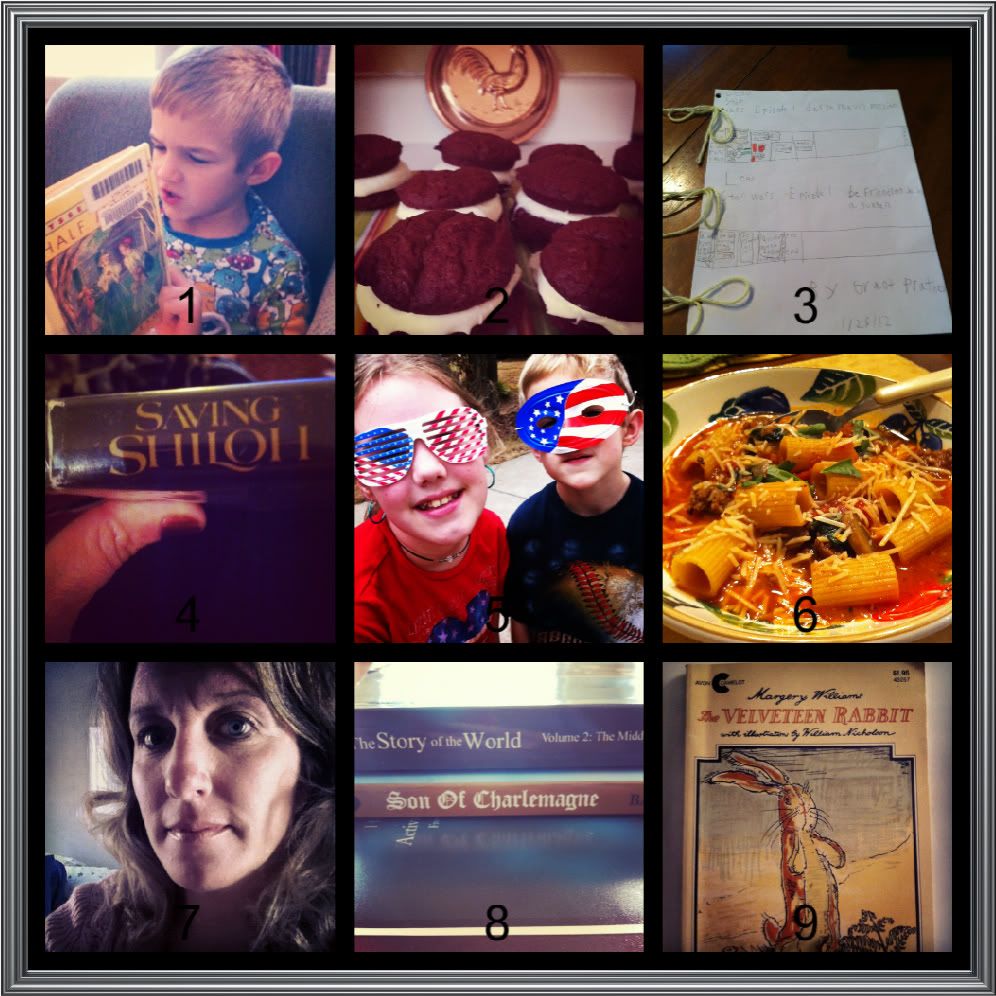 1. The laundry was very backed up Monday, so Gman and Miss B took turns reading aloud while I folded clothes. They got to stay in their pjs and we must have read for two hours to finish Half Magic.
2. The kids wanted to bake Whoopie Pies (Miss B received a pan, mix, and cookbook from William Sonoma for Christmas). These Red Velvet Whoopie Pies were delicious ~ who knew there was even a YouTube video on how to do this?
3. GMan has been VERY interested in writing his own stories. He wrote his own "Star Wars" one day and had me punch holes and tie it together. I love that he is writing, drawing, and just motivated.
4. Movie Night: Saving Shiloh was a wonderful book (the whole series was good). We all agreed that generally movies never live up to the book, and this one was no exception. As a movie it was ok - but it paled in comparison to the book!
5. Thursday was a huge bright spot in our week. CoOp classes are always wonderful, but Miss B's US Presidents class is exceptionally good. I have to brag a tiny bit: Miss B was the first one in her class to become a

Patriot Pal

. Basically, she memorized the Preamble and the order of all the Presidents. Her teacher rewarded her with all kinds of patriotic goodies. What I LOVE is that all these children are inspired to learn about our country! I'm forever grateful to her wonderful teacher.
She won a great little card game about the Presidents... I had never seen it before and it's great. That wins the award for Favorite Resource this Week! We also watched the State of The Union address this week with Miss B and talked her through the complicated hour. Explaining this to a ten year old really makes the whole thing look kind of absurd - and so very removed from REGULAR Americans.
6. Lasagna Soup - this was literally like lasagna in a bowl! You put cheese on the bottom of the bowl before ladling the soup in... yummm! This is a quick and delicious meal.
7. I haven't taken a picture of myself recently - I put this on Instagram and Jimmie commented she didn't recognize me because I wasn't smiling brightly. Ahhh.... this picture was a reflection of a difficult week and (what felt like) the weight of the world on my shoulders. So - this is me at 40 - wrinkles and all!
8. We did keep going ahead in history this week, with the chapter about Charlemagne in Story of The World. We also started Son of Charlemagne. History is ALWAYS a favorite of my children!
9. A special read aloud this week - my favorite!
How was your week? Feel free to link up a collage with Collage Friday below. Please remember to visit someone else in the linky list to say hello, and please grab the Collage Friday button to display on your site or somewhere else in the post.
I also participate in these great Friday link-ups.... lots of great weekend reading out there!