How do you teach musical classics to your children?
Being a music teacher by degree and part time piano teacher now, I'm very picky about what kind of music is taught to my children. I've always had the thought (as I do about literature):

"Why let my children be exposed to JUNK when there are so many BEAUTIFUL things out there?"

In our home we listen to all the great classical composers frequently. I want my children to know about them, know about their compositions, and learn to play instruments.
I've been a huge fan of Maestro Classics for a while now... when given the chance to review one of their CDs for the TOS Crew I was so excited!! If you are looking for QUALITY MUSIC, COMPREHENSIVE LESSONS, and ENGAGING CONTENT, I suggest you give Maestro Classics a try. Bonnie Ward Simon and Stephen Simon have done a superb job of making classical music accessible and enjoyable for our children.
The Story of Swan Lake is a Story in Music, one in a series Maestro Classics offers. The music is performed by the London Philharmonic Orchestra, and conducted by Stephen Simon.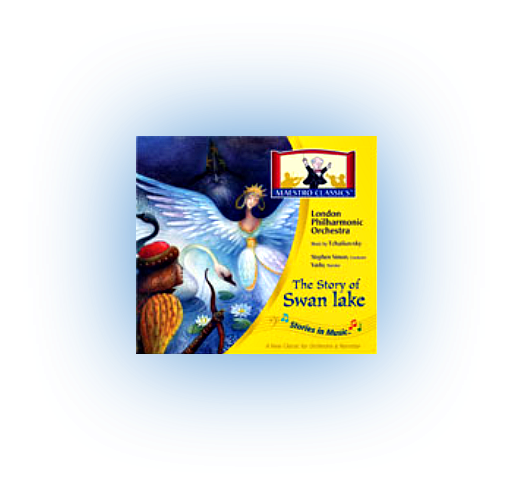 This is what you will find on the CD:
The Story of Swan Lake (music with narration)

Tchaikovsky's Life (a short track about Tchaikovsky)

Speed Metal Swan (modernized version of Swan Lake with electric guitar - very cool!)

About The Music

"Tchaikovsky Wrote a Great Ballet" - a familiar theme from Swan Lake that has been given words to help your children remember The Theme from Swan Lake.

Want to Have Some Fun? Prepare to Perform

"Tchaikovsky Wrote a Great Ballet" sing-along
Included with the CD is a very well done booklet with information about the composer, the story, and
elements of music theory such as MAJOR and MINOR modes.
We listen to The Story of Swan Lake in the car to and from our co-op... it's a great way for me to make good use of our time and for the kids to really LEARN SOMETHING ABOUT MUSIC.
I could tell you a lot more, but Bonnie Simon (the executive producer of the CD) sums it up very well:
We give this a hearty recommendation - my children love this CD, as do I.


More information:


The Story of Swan lake is available from Maestro Classics for the price of $16.98 for the CD and activity booklet, or for $9.98 as an .mp3 download.


You can see all of the products available from Maestro Classics here. You can even listen to samples of some of the recordings.


Find out more from the crew blog, where a lot of my fellow crew mates have been reviewing The Story of Swan Lake as well.