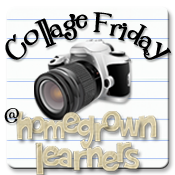 Welcome to Collage Friday. Last week some hard working moms submitted their collages - did you see them?
Collage Friday is a great way to recap your week and keep a record of what you have accomplished in your homeschool. I encourage you to join us.
Create a collage of the week's events and link it up here. Be sure to grab a button for your sidebar or post. Visit some of the other blogs on the linky list, too. There are so many great ideas out there.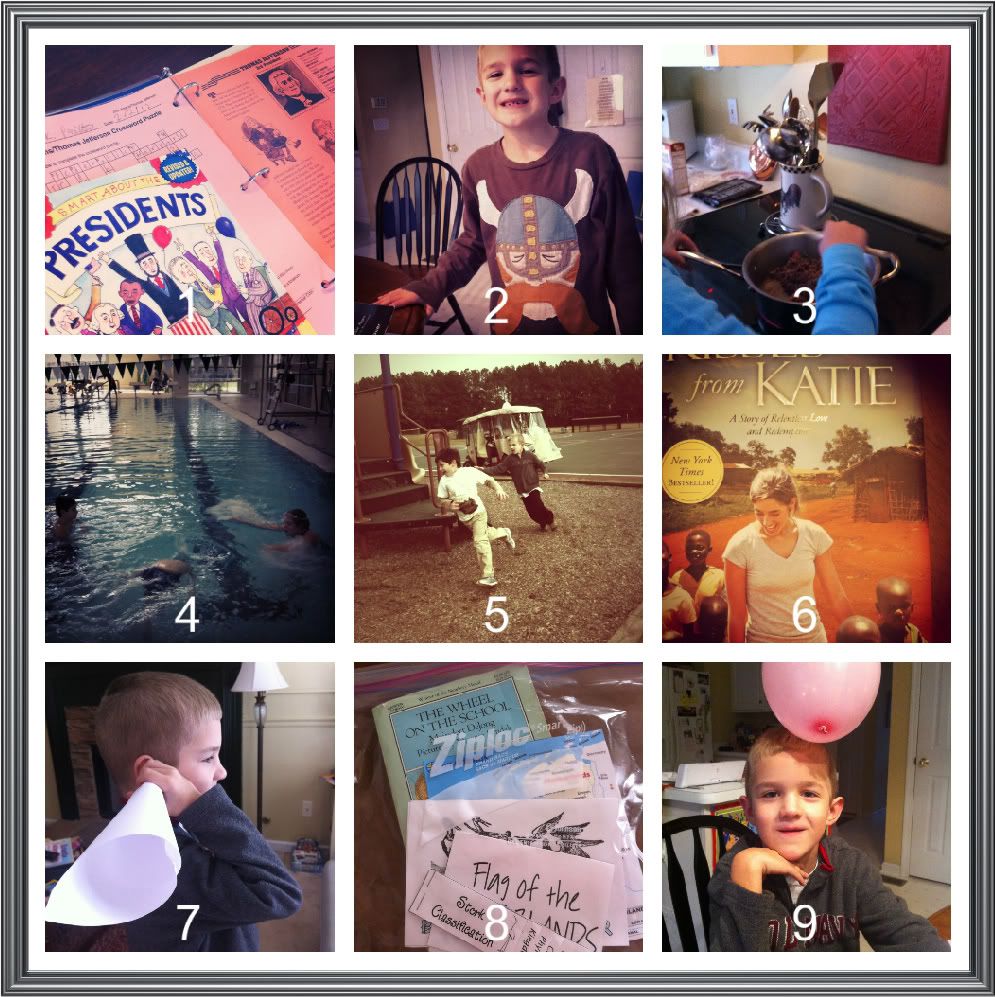 This week was so much better than last -- I knew it had to be because we had a fun weekend to start things out. With a surprise party for a friend of ours and lunch with friends after church on Sunday, the weekend was full of laughter, friendship and not many worries. I NEEDED THAT.
If anything can be taken away from the death of my son's friend two weeks ago, it is that we need to be more present with our children, appreciate the time we have, and work harder to build strong relationships with them. I feel our homeschool has taken a turn for the better in the past two weeks. Please continue to pray for the family that has lost their precious six year old.
1.

Learning about the Presidents

: I have mentioned my daughter is taking this class at our co op and what a marvelous class it is. She is INSPIRED beyond belief. This week she read through Smart About Presidents (a super little book) several times and has been spouting information about the Presidents all week. This book comes from the Smart About History series; it is my favorite resource this week!
2. Coincidence this week - we are learning all about the Vikings, and one day GMan put on his Viking shirt and didn't even realize it until we were almost done with our lesson about Leif Ericsson. We completed a chapter in SOTW and the children drew their own longboats and we read some Norse Mythology.
3. I have been giving Miss B more responsibility in the kitchen recently. She must make dinner one night each week. Wednesday I taught her to make Crockpot Spaghetti and she chose to make S'Mores Bars for dessert. Yum! On days when I give piano lessons this is a huge help to me... dinner is ready when my last lesson leaves, and my daughter is so proud of what she has accomplished.
4.

Swimming!

I took a water aerobics class at the YMCA with a new homeschooling friend of mine, and our children swam together while we were in class. It was a WIN - WIN! While there my son pulled me aside and showed me a picture of his sweet friend who died two weeks ago... the swim team had put her picture up (she was quite the little swimmer) and everyone had written special notes around it. My children and I had a quiet moment reading them all... then G just patted me on the back and gave me a kiss. I know this is all so hard for him to understand, but God is presenting little ways for his heart to heal.
5. During Miss B's piano lessons I took GMan to a park nearby. He ran into a friend of his from preschool - and they remembered each other! They played and had fun for quite a while. It was pretty neat to see how they had both matured.
6. Kisses for Katie is my new read - have you heard about it? Watch the video! I think you may to read it, too.
7. Learning about bats in Flying Creatures... this little experiment showed how bat's hearing is made so much better by their large ears.
8. We are working on literature fair projects - read more about them here.
9.

Interest Led Science

- static electricity - the kids were playing with balloons all week, so we decided to research more. Good times!