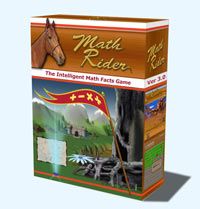 My children have been practicing their math facts with our latest review.
With MathRider they are able to practice addition, subtraction, multiplication, and division facts (0-12) by going on quests with their horse through the Mathlands.
When my children login to their account, they begin a quest... the quest consists of taking their horse through the Mathlands to reach a specific goal. To get through the Mathlands their horse must clear poles with math facts on them. My children have to type in the answer as quick as they can (this is a HUGE part of the appeal for them) to clear the pole. They receive bonus points for speed.
As you can see from the screenshots (2 different quests), children know their time, poles remaining, poles cleared, and poles not cleared, as well as total points.
*
This program is a wonderful supplement any math program. I can ask the kids to go the computer and work on their quest and I know they are getting focused practice with their math facts.
* The graphics and voices are VERY well done... the accent of the speakers makes my children feel like they are "doing something fancy" (GMan's words exactly!).
*
Feedback is immediate and easily accessible. You can view exactly how long each problem took to answer - a feature my children really liked. As I mentioned before, they earn bonus points for speed. As a parent I can look at all of their statistics to see just what facts need work and which ones are solid.
*
The drills are intuitive - making sure my children are receiving more problems that they need to work on, versus just drilling facts at random.
*
Many video helps are available for any questions you may have about the program.
** The only problem I had with MathRider was that it was sometimes hard to get my children away from the computer if they hadn't completed their quest!! I guess this is actually a good thing, right?? **
*

MathRider is available for instant download (until Feb. 15 only!) for just $37. After that the price goes up to $47.
*

You can try Math Rider FREE for 7 days. What do you have to lose??
*

There is a 30 day money back guarantee if you are not satisfied.
I happily reviewed this item for The Old Schoolhouse. Please visit the crew blog to read more reviews!
Disclaimer:I received the above named product from TOS Crew in return for my honest review. I have not been compensated in any other form.