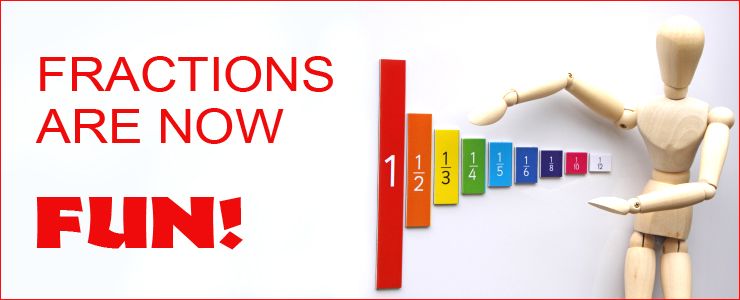 Our latest review for the TOS Homeschool Crew is Fractazmic, a card game that is aimed at helping kids enjoy working with fractions.

Basically, the goal of the game is to get rid of all your cards in your hand, but making your fractions in the same suit add up to 1. If your children are working with this concept in math, I would HIGHLY recommend this game. They must, however, have an understanding of how to convert fractions!!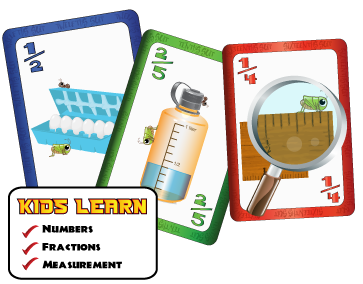 The cards are divided into three suits: blue, green and red. Each card has a written fraction and also a graphic representation of that fraction. This graphic is helpful if your child is still struggling a bit converting their fractions.
For instance, we know that 2/5 is the same as 4/10, right? Do you see how the 2/5 green card has a water bottle divided into 10 parts. This aids your children in the conversion.
Don't expect to sit down and play this game cold turkey. You MUST instruct your children in the conversion of fractions before you play. Spend some serious time with it. If you want, use a white board to write out some of the conversions and leave it up while you're playing. (Don't let them rely totally on a cheat board or sheet, though - they'll never be forced to really learn to convert the fractions!)
I watched while my husband taught/played with my children:
As you can see from the big yawn from my almost seven year old, sometimes it made his brain hurt!
**There are lots of different games you can play with this deck of cards. Click here to learn to play Fractazmic Rummy. Or, how about Fractazmic Trap?
Pertinent Information:
Fractazmic is made by I See Cards... visit their website to learn more.
The game is recommended for first through eighth grade. Use your judgment as to where your child is with fractions - it blew my first grader's mind (and he's good at math) and was right on track for my fifth grader.
Each deck of Fractazmic cards is $6.95. They can be purchased in the I See Cards shop. You can play speed Fractazmic online to win free decks.
Our Impressions:
My husband was the one who taught and played this with the children. He thought it was a great game (he's a math nerd!) and recommended we keep it out for my daughter who is studying fractions.
I can't emphasize enough that this is not a game you will just sit down and play immediately. It takes instruction and thought. Be sure your children are prepared to convert fractions.
In my opinion, it never hurts to have a lot of tools at your disposal when you're homeschooling; especially tools that make learning different and fun. Fractazmic is just that.
Visit the crew blog to see what my crewmates are saying about Fractazmic.
Disclaimer:I received the above named product from TOS Crew in return for my honest review. I have not been compensated in any other form.